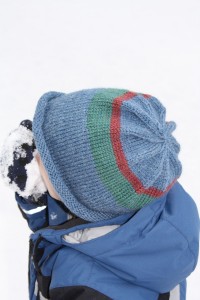 Yay I'm moving along! It isn't a scarf! So this didn't actually take me very long to knit up. I think I did it over the course of a few evenings (a few movies) and finished up on a weekend. The finishing was the hardest for me as I haven't ever done anything major with decreases, etc. I didn't have a pattern when I started but then ended up finding a knitted cap pattern which was very helpful for the decreases at the end. This was for my sweet little August. I let him choose his wool himself and then I added one extra stripe. This is also the first time I've switched colors while knitting. I have run out of yarn mid-project and had to start a new skein but this time it was all intentional (as I hope you can tell).
I found the pattern in a book that I checked out at the library (another great way to get free patterns).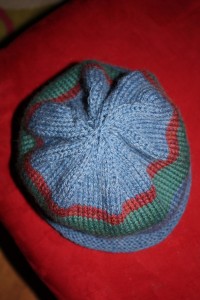 I used Patons Classic Wool for this particular project. It is a yarn that needs to be hand washed but is great for felting. The main color used was Cognac Heather. It said to knit it up using size 7 needles but I used size 6 circular needles for this project. It was my first time using circular needles and I love them! I wish you could finish the entire hat without switching to double pointed needles but it was a good first time experience for me. I guess most of you reading this probably know that you just knit the entire hat to make it roll this way, so no purling required. I think I started with 76 cast ons. I should write it down because I forget so easily. Since it was a gift for my little boy (who isn't even 3) I figured that would be plenty, but if I had it to do all over again I would have done less. It is a bit big for him, I guess I could try lightly felting it to get it to shrink down…or just save it until he's a bit bigger. I just don't like that it doesn't cover his ears very well…it doesn't stay down over them. I'm actually making another hat right now but I'm using a ribbed stitch and it is going to be much better for ear coverage – that one is for Simon.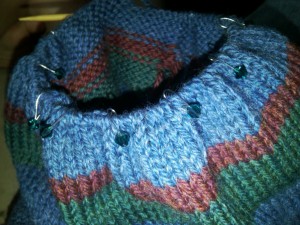 The upside to decreasing is I got to use my cute stitch markers from Skyline. I just knit two together before each of my stitch markers until I was done. It made a nice little star atop his cute little head.
One more photo of cute boots. He loves his new hat (almost as much as he loves to eat snow).