I went into Joseph's Coat, in search of some washable wool – soft enough to be a baby blanket. I had a pattern in mind. I'm not following it exactly, just loosely.  I am knitting every row, to get a beautifully simple garter stitch, and I love how the blanket is turning out. I just visited the Purl Bee and strangely enough this very pattern (in a kit) is featured right now. I wish I could afford one of these kits, but I had to write my own adventure. I bet that Alchemy yarn is completely amazing! I chose something washable (for Mama Lexie's sake) and still soft enough for snuggles and wool for warmth and because I simply love wool. I have always been drawn to natural fibers, but after only a year of knitting I definitely prefer wool over any other fiber. There are some amazing bamboo yarns I've worked with and some blends that I like but if I can get wool, that's what I'm gettin'.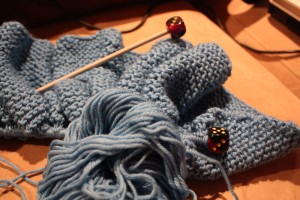 The yarn I chose is just a simple 100% Superwash wool made by Cascade Yarns. In one delightful ball you get 100 grams/3.5 oz. The suggested needle size is a 7. I've been using my dice needles that I got on our incredible beach vacation this past summer, they are actually a size 8. The yarn is made in Peru and really easy/pleasing to work with. I am loving how the blanket is turning out. I don't want to post too many photos of it, as I'd like to reveal the finished product when I'm completely done, with a sweet baby girl wrapped in it. Could be any day now, and that blanket is far from finished! Mama's got her work cut out for her. Somehow I'll squeeze it in with all of the other projects in my pot.
Happy Holidays! Happy Knitting!