So my little niece is teething right now and my sister called me for some suggestions last night. I told her about something I'd done with Gussy when he was getting his toddler teeth and then started remembering a short list of oils that might help through the teething process. I used some diluted Clove oil (probably about 1 drop of Clove to 4 drops of olive oil (or V-6) or any edible oil that you are comfortable pairing with your essential oils. It kept a small diluted bottle of Clove beside Gussy's bed and whenever he had trouble in the middle of the night I had easy access to it. Alice (my niece)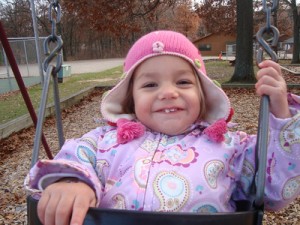 let her Mama rub some of the mixture onto her buds and gums and Melissa said it seemed like she had relief almost instantly. They shared some Chamomile Tea and off to bed she went.
My sister looked in her book and found some other oils that would be good to use for teething. I know I used a lot of Roman Chamomile which is just an all around great oil for kiddos anyway – but it is a good soothing, calming oil. Some others that might work well are Peace & Calming (on the feet), German Chamomile, and Thieves is also listed (I'm assuming because of the Clove within). I wouldn't hesitate to use Lavender either it is another great oil that can have a calming effect. I also made sure to have on hand some Hyland's Teething Tablets. Oh and an amber teething necklace doesn't hurt either. Gussy had one of those and amber helps your body secrete natural pain relievers that ease the pain of teething. Not to mention that Amber is just a very protective stone.