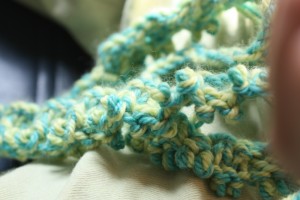 Gone are the days of me apologizing for how long it has been since my last blog post. I just decided I don't need to start each post off by apologizing. And, I'm not going to apologize for making hat after hat after hat after hat, because I like making hats. I definitely am going to dabble in some other projects this fall/winter, but hats are the "gift" of the year (or possibly several years). If you are special to me, and you haven't gotten a knitted hat yet, you can probably expect one at some point in your life. Don't hold your breath, and you can pretend to be surprised when you get it, and maybe you honestly will be, since the majority of you aren't reading "Mama Loves Knitting" in your spare time, someday you will (might) be gifted a hat.
So, we traveled a LOT this summer. I know the last post was a knitting sesh on my lap and I was torn between knitting and reading the novel that everyone and their grandmother read over the course of the past year. The novel won, but I finally finished the hat (photos coming soonish hopefully modeled on the head of the recipient), so the next trip we took was to my little brother's wedding in Indianapolis. The knitting was the easier option since we had our kids along for the ride(s), no reading could be accomplished, well with the exception of My Father's Dragon which might be the best book ever (to read to your 6 year old).
My family and I made my brother and his wife a pretty amazing quilt for their wedding gift, so…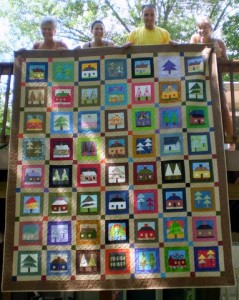 I wasn't sure I needed to get another gift, so I decided I'd KNIT SOME HATS for them. Mitchell told me he didn't have a favorite color, which works out swimmingly for the above pictured quilt that he was the recipient of, but didn't work out so well when I was attempting to choose a couple of Shepherd's Wool colors at Joseph's Coat the day before we flew away from Missoula. He did tell me that Megan (his bride) likes greens and blues so I chose two colors that I thought looked fun together and I've been wanting to keep that ribbed hat for myself ever since I started it.
I plugged away on the plane after starting at least 3 times from the beginning because I cannot count when I sit next to my three year old. I plugged away while we sat in our big house surrounded by my family and all kinds of cozy. I didn't knit as much as I thought I might, as euchre was much more important, but I got a good start on Megan's hat.
I plugged away on the way home whilst Simon spelled. This Mama Knitted! And since I got home from our trip, I've finished that hat and started Mitchell's that will be Ivory and Christmas Red Shepard's Wool, I guess you get the colors of your Alma Mater if you don't specify a fave. I am using size 8 circular needles, 16″. For Megan's hat I cast on more stitches than I did for the boys' ribbed hats, even though now that I think about it, her head is probably not any bigger than Simon's melon. I cast on 80 stitches for Simon and Gus and for Megan I did 96, I think? And, I did a horrible job of decreasing up top, I'm a little bit out of practice. Don't worry though I'll be back in the swing soon.
I've also been plugging away on that sweater. I re-fell in love with that project last night while watching a movie. I also discovered while knitting Megan's hat that I can knit and watch a sub-titled movie, yep, pretty bad-ass, for a rookie. It is true that knitting is much more desirable when the weather gets colder. I have a lot of projects up my sleeve now I just need some cold weather and movies, with or without subtitles.