Sick Day Amigurumi Carrot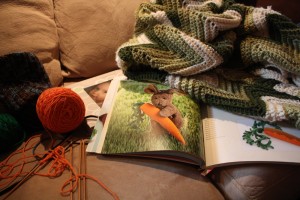 What is Amigurumi? If you ask me it is a pretty pleasing way to fill an Easter basket or give your kiddos something to play with that is safe. I mean of course you could always shop at a store like this one to accomplish the same thing, but making something for someone you love is so gratifying. You might remember the chickens that filled the baskets last Easter or the Sock Monkey that I just finished up for my little Valentine's. Those are both examples of Amigurumi. Knit toys.
I happen to be spending the day on the couch, just as I have been for a week, one kid gets sick, then my husband, then the other kid and leaving their sides isn't really an option.
Instead of making yet another ribbed hat…oh wait I did start one last night…
It just seemed like the easiest thing to knit with a kid on my lap. This yarn is Raven Ridge handpainted worsted weight yarn made by the woman that taught me to knit. And, yet another ribbed hat…boring…so onto today's project.
To pass the time I'm attempting to knit a carrot from this book.
[phpzon asin="1589234359″ country="US" trackingid="mamalovesknitting-20″ templatename="asin"]
It was a gift and I haven't attempted to make a thing from it yet and of course I'm on the first row of the carrot and 'wrapping and turning' (w&t) is in the pattern. There is a pretty great description of how to wrap and turn right in the book, but I'm not sure if I wrap and turn this whole lot of stitches that is left or just wrap and turn one of them? I just need a little bit more explanation. So I turn to You Tube. You pretty much never need to take another knitting class in your life these days. Funny thing is I'm signed up for one that starts on Tuesday to make that god forsaken sweater I started a coon's age ago. I'm most likely going to be tearing apart everything I've accomplished so far, but it actually makes way more sense to me to knit on circular needles so I'm hoping that is what I will be instructed to do.
Back to that carrot. This w&t video seemed to be the most useful one I found. I'm hoping by the end of this sick day I'll have a carrot to show off. I figured out that I just do one wrap and turn, not the stretch of remaining stitches. At least based on how my carrot is coming together that seems to be the right solution.
I chose this leftover Shepard's Wool Yarn that I have, since I have a plethora of colors. Orange and Green (looks like a carrot to me).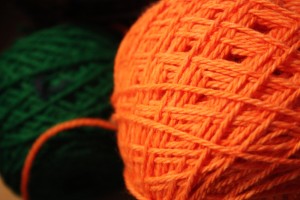 The carrot in progress didn't look anything like a carrot – and really when it was complete (sans the fronds) it looks more like Gwing (which is the name courtesy of my good friends Syd/Chris) that they named some mutant carrots a while back. We had carrots that looked like THIS and worse in our harvest 2010.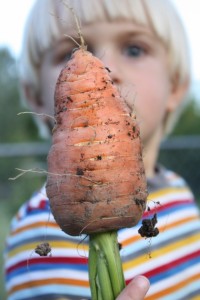 Mutants
So I thought it fitting that the carrot I knit up looked really similar. The encouraging family surrounding me the night I grafted it together reassured me it looked like a *real* carrot. Indeed.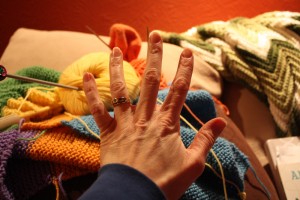 Oh before I show you the finished product – well nearly finished product I thought this was pretty brilliant. I went to bed one evening and since I have plenty of things to remember I took a photo of the row # (#5) I left off on. Gwing won't be missing any rows, she's just got some tiny holes where we (me and Gwing) did the w&t. Still mastering that whole thing. That is Sloane's Blanket (still in progress) and Gwing sitting atop before I called it a night.
And TA DA! Here she is…Gwing sans her greens (I think those will really make her beauty shine).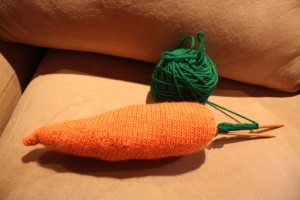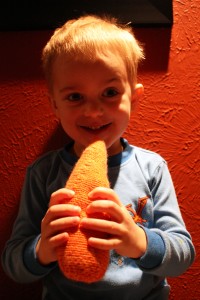 Gus thinks Gwing is good enough to eat – and he feels better – that's all that is important to this Mama.
Happy Knitting!