Well the winter has brought inspiration for knitting but we've also been doing a lot of soaking at Hot Springs around Montana, so I haven't been blogging a ton…here is something I just finished last week though. I was intending to make it for Mr. August (Gus – my 2.5 year old) but it ended up being a bit thinner than I'd like when stretched across his little head. So, we're sending it to our sweet baby Clara, we thought she could use a little spring hat. You can see a sneak peek of her in the Checkerboard Scarf post.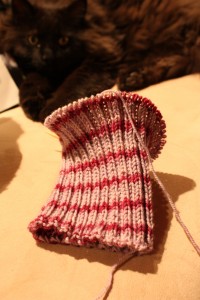 Here is the hat still under construction. I decided to make it ribbed again, I just really like the way they stretch. I ended up using some of my Skyline 100% Superwash Merino Wool – sport weight. It called for size 3-5 needles (which is good sock yarn (fingering yarn – I think that is correct?) but I'm not quite there yet) – I was told to attempt about 5 hats before I started on a pair of socks. I think my next project is actually going to be mittens though or maybe some leg warmers. I really heart leg warmers. I used size 6 circular needles to make this hat and finished it off with double pointed size 6 needles like usual. I cast on 80 stitches, but since I was using such tiny yarn and needles it ended up being a bit smaller than I'd anticipated. I just knit two, purled two the whole time. When I decreased I purled two together first, then I decreased two knits together and purled one in between. I finished completely by knitting two together until I could finish the top. This yarn also says to machine wash cold or hand wash, lay flat to dry – just FYI Nicole.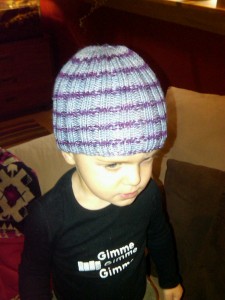 I'll be sure to post a photo of Clara adorning her hat as soon as I get one, in the meantime here is the hat stretched on Gussy's little head.
Just a little taste of what's to come below. We went to Elkhorn Hot Springs this past weekend so I started another hat with some yarn that I got from Loopy. I'm really liking the Ribbed pattern, I sort of created, so I'm going to make a couple more ribbed hats. We enjoyed some tasty bourbon whilst knitting in our cozy cabin, of course this was after playing in the snow all day and soaking in the hot springs. I think this hat will be for me? We'll see.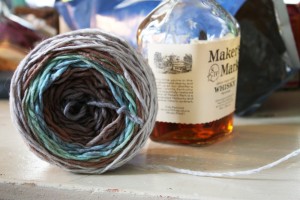 Happy Knitting!