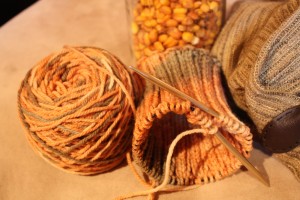 I loved the way this handful of things all matched. Yarn-corn nuts-knitting bag from my sweet friend-cozy couch – ahhh! I'm making yet another hat for a doula client and I'm using some more of the yarn I got from Skyline Yarns . The doula client is less of a "client" and more of a friend so I wanted to make sure to use something special. This is a worsted weight superwash 100% wool yarn. Machine washable wool is the best! It says to knit with size 7-9 needles and I am using size 8 circular needles. I cast on 68 stitches to start this sweet little baby hat. Knit 2 Purl 2 round and round we go! It is still under construction as I type. This yarn makes a pretty amazing pattern, look at that beautiful stripe.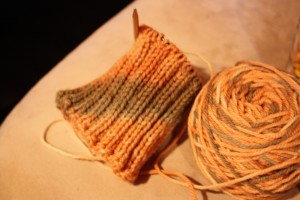 I'm of course doing my favorite pattern – the good old ribbed hat. I love how stretchy they are and it just seems like a little person can get a little bit extra use out of a hat like this – it will fit for longer. I wonder what Karen used to dye this yarn, she dyes her yarns with all natural dyes – maybe carrots? Whatever it was – it looks delicious!
The second hat I wanted to make mention of, I whipped up in a couple of nights. It was for my last doula client and her sweet baby – Claira Rain – she was born a month ago (with the rain on April 30th) and I actually used the same yarn I used for the other Clara's hat. It is special Skyline Yarn again but a bit lighter weight, sock yarn, fingering yarn.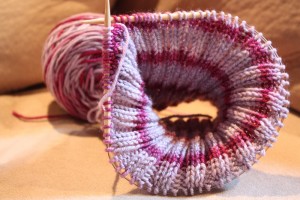 This yarn called for size 3-5 needles. I used size 6 circular needles to knit this up. Same pattern knit 2, purl 2. I think I got a little bit slack when I decreased and closed up the top, I'll have to look back at my old patterns when I close the hat I'm currently working on. It still looks pretty sweet on baby Claira's head.
Look at that sweet little newbie and her pretty Mama. Knitting hats for new babies is quick and easy and so fun. I remember when my midwife knit a hat for Gussy while I was in labor, and it is one of my most favorite sentimental keepsakes ever. It goes on the top of our Christmas tree every year. Here is a photo of Gus in his baby hat 3 + years ago. Maybe some of the hats I knit will end as tree toppers? Who knows, what I do know is those babies will have warm little heads.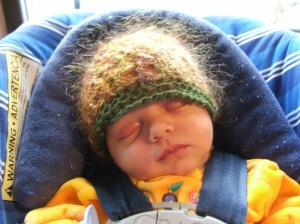 Happy Knitting!