Happy Spring. I did end up getting the chickens done in time for the bunny to stuff a couple in Simon's and Gussy's baskets. I mentioned my intentions to do so on the 1st birthday of our five hens back in March. I knitted Fire then, and you can see she made it into some of these photos as well. She's the only one that got eyes, lucky girl!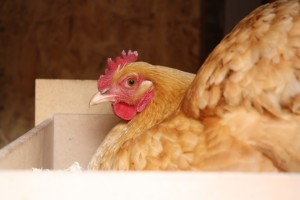 This was August's Easter Basket. He ended up with the white hen (which we don't even have – so while sorting through his basket he said, "A white one? Huh.") and the Black Hen who we call Compsognathus.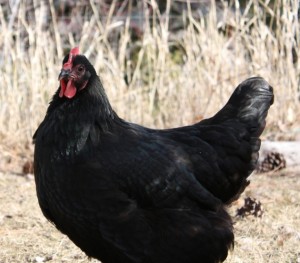 I again used my ancient acrylic yarn and didn't even put a dent in it. Oh well at least it has served some purpose. My kids love their hens. Simon ended up getting a couple of the other hens we have.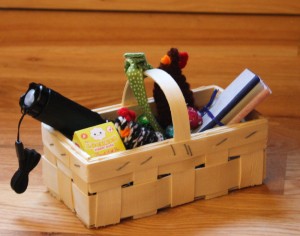 The black and white hen is Octopus Pie and the brown hen is probably Captain Dan we have two Auracanas so I suppose the brown hen could be either of them but it ended up looking more like Captain Dan than Boingy.
I used size 4 bamboo needles to knit the girls and cast on 16 for each of them. I knitted until I felt like it was nearly square and folded them into triangles and stitched up the sides until I had only a small opening and then stuffed them with just some poly fill. I sewed them closed and crocheted the combs with red acrylic yarn and just sewed beaks on with bright orange acrylic yarn. It was a fairly simple project that I finally finished on Easter Eve. I was cutting it close but still able to hang out and play cards with family that night…so nothing too stressful. And it felt really good to have such healthy goodies in the Easter Basket. I hate Plastic Easter Grass with a passion, I think it an awful product so I lined the baskets with some recycled shredded packaging I'd gotten in something a few days before Easter. I filled the baskets with the homemade hand-knit chickens, a flashlight, some modeling beeswax, a bird whistle, a zipper pull and a few chocolate eggs. Happy Healthy Environmentally Friendly Easter! I'm such a dork Mom.
Happy Knitting!