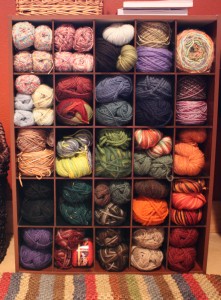 So I've never been the girl with 25 pairs of shoes…but boy did I find a way to fill this puppy up. I'm going to do whatever I possibly can to just keep my yarn in ONE of these and not go and get myself a second one. I best get to knitting! It is a shoe rack I found at Lowe's in an attempt to find some shelving for my store. I stared at it for a bit and realized it would be the most perfect new home for all of my tasty yarn. I love being able to look at it and not have it buried at the bottom of a basket that I must dig through for inspiration. When I placed each skein/hank in its new home yesterday I was thinking about what I might use each of them for…so I've got all kinds of new project ideas up my sleeve. I'm thinking some felting is right around the corner.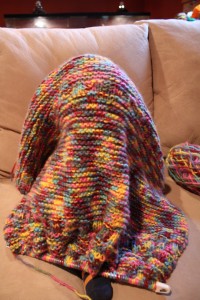 In the meantime however, I'm still plugging away, when I have idle time, on this colorful blanket. I think I've finally decided that indeed it will be a blanket and I don't think it will be much longer before I've used up the entire ball of yarn. My pattern (or lack there of) is just to knit, knit, knit creating a simple garter stitch throughout. I like to throw in some flavor every now and then with a few rows of knit two, purl two (k2, p2) making a ribbed pattern. I don't have much of a rhyme or reason to when I add these "special rows" but I try and fold the blanket over to see if it is time for another row or three of variation.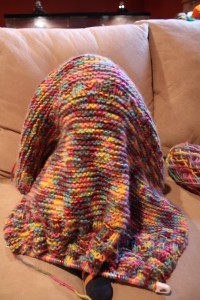 I asked a special someone to cozy up in the blanket this morning for a little photo shoot and this is what I got out of the deal. I was feeling a bit worried that the blanket wasn't going to be wide enough but it seems to be just right for a 3 year old. Gussy asked me if it was for him on Sunday, "Mama is that for me? It is so cute!"
He told me the blanket matched his arm warmers this morning. "How did you do that Mama?"
Well Goo – I did it on size 11 single pointed needles with a giant ball of variegated yarn!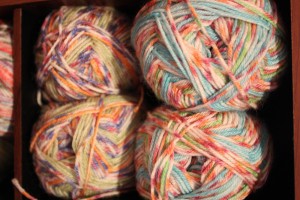 I'll leave you with a pretty view of some of the skeins of sock yarn that were gifted to me by my parents this past week when they visited. My collection really skyrocketed when they came to see us. Look at how nicely they fit right in their little cubby. Thanks for my bag full of birthday yarn Dad and Jan! I'm still in the same place with my socks that I was a few weeks ago, I'm the kind of girl that likes to keep my options wide open and I like to have at least 3 knitting projects going at once – I also like to be reading a few books at once to appease whatever mood I might be in.
I hope the next time I share something I'll be done with my blanket and started on a brand new project. I'm close…so I don't doubt it. Happy Knitting!